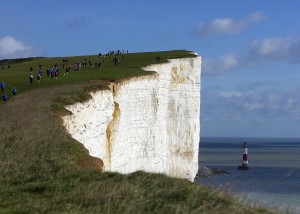 2012 was a hugely successful year for the Beachy Head Marathon, with 1,750 runners taking part. Every year over 150 volunteers from a range of local charities and organisations assist with marshalling, first aid and safety provision for the UK's largest off-road marathon. Organisers Eastbourne Borough Council then make donations to each organisation as a special thank you for their assistance.
This year saw an increase of 8% on the overall donation fund, with a total of £5,650 in donations being awarded to:
Rotary Club of Hailsham
Eastbourne Sea Cadets Unit
Seaford Striders
Eastbourne Voluntary Lifeguards
St John Ambulance
Beachy Head Ramblers
HM Coastguard Eastbourne
HM Coastguard Birling Gap
Chestnut Tree House Hospice
The Mayor's Charity (Lark in the Park Charitable Trust)
Since the event's relaunch in 2002 over £50,000 has been donated by the organisers to those local volunteer groups involved with the event.
A wide range of charities also benefit from the event through sponsorship of the individual participants, with sponsorship totalling in excess of £40,000 each year.
The Beachy Head Marathon returns on Saturday 26 October 2013 and entries are now open online at www.beachyheadmarathon.org.uk.