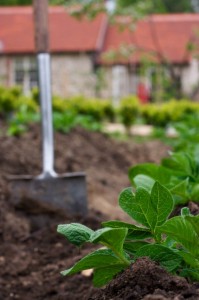 The Beachy Head Walled Garden has matured and developed over the last year and is in great shape.  We hope our visitors are enjoying it as much as we are, especially now that we are finally getting some sunshine!  In order to keep our friends and visitors updated on what's happening in the garden we have persuaded our talented Gardener Mark to write a blog.  This is his first instalment:
Blog.
So, write a blog, they say.
What about?  you say.
Something you are passionate about, they say.
Oh, you say.
Something you enjoy, they say.
I know, you say.
What about Dipperay's Walled Garden Beachy Head, you say.
Perfect, they say.
It is I say.
So here starts what maybe a short lived stream of consciousness, but I suspect will actually be a long term love letter to the Walled Garden I am allowed work in.
Weather will be mentioned. Tasks will be discussed. Jobs will be plotted. Successes will be celebrated and the occasional failure dismissed with a cheery "we'll do better next time".
The cast list includes Mr & Mrs of The Big House, the dynamic Ms "Can Do", chickens, guests, children of The Big House, assorted assistants and me, Mark, the luckiest gardener in the South.
Positive comments and contributions are welcomed. Constructive criticism begrudgingly accepted but unpleasantness and negativity will be put on the compost heap!!