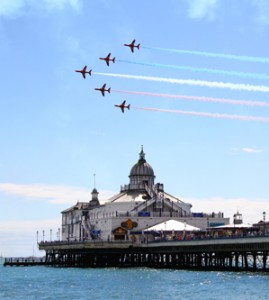 This year Beachy Head is the only place to be for unparalleled views of the renowned Airbourne: Eastbourne International Airshow, which takes place 15 – 18 August. High up on the cliffs overlooking the sea is the perfect place to watch as this incredible display unfolds before you.
After last year's 20th Anniversary Airshow, which included the busiest day ever in the history of the show Saturday 11 August 2012, the organisers have arranged another fantastic line-up for spectators.
The famous Red Arrows will be performing a display on all four days of the show. Another great crowd pleaser the Euro Typhoon is back this year. As is the RAF Chinook helicopter, the Battle of Britain Memorial Flight consisting of a Spitfire, Hurricane and Lancaster 3-ship formation, the Prince of Wales' Royal Regiment Parachute Display Team "The Tigers", the daring Breitling Wingwalkers, plus much more.
Parking is available at Birling Gap and extra parking is being laid on at Beachy Head itself. Refreshments are available at Birling Gap and Beachy Head, as well as at The Tiger Inn and the Hikers Rest Tearoom in East Dean village.