ENDURANCE LIFE Coastal Trail Series, Sussex, 10K, Half Marathon, Marathon and Ultra : SATURDAY 18th March 2017
The Tiger Inn in East Dean is offering runners who receive a finisher's medal in the ENDURANCE LIFE 10K, Half Marathon, Marathon and Ultra this year, a free pint of beer from the Beachy Head Brewery on presentation of their medal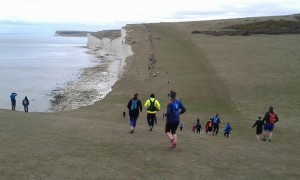 The Endurance Life Coastal Trail Series, takes place this year on Saturday 18th March 2017, with approximately 1000 competitors, cross-country running long distance over the stunning Sussex landscape and challenging terrain of the South Downs countryside.
Races start from Birling Gap at 8.00am with the Ultra runners, with other distance races starting throughout the morning.
Spectators will be able to watch from a variety of viewing points, as the courses take in the iconic walking routes of the Seven Sisters, Birling Gap, Beachy Head, Belle Toute, East Dean and the South Downs.
The dog friendly Tiger is ideally located for spectators, family and friends to stop for a drink or something to eat.  The Kitchen will be kept running until 4pm on Saturday 18th March, to ensure there is food for even the most bedraggled  runner.  The Tiger serves delicious classic British dishes and a variety of ales and drinks including beers from the award-winning Beachy Head Brewery.
For information on Endurance Life:  http://www.endurancelife.com/event-new.asp?series=87&location=310
For information about The Tiger:  www.beachyhead.org.uk