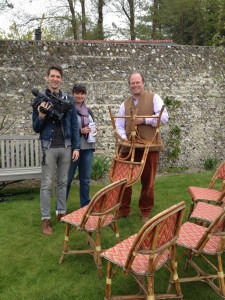 BBC programme "Put Your Money Where Your Mouth Is" came to Beachy Head last week.
In the programme two experts from the world of antiques go head to head in a competition to raise money for the charity of their choice. Their challenge is to buy a selection of antiques and collectibles over the course of a week which they then compete to sell for the biggest profit.
In the course of last week's filming James Braxton, who owns Edgar Horns Auctioneers in Eastbourne and is Executive Director of Brackets Fine Art Auctioneers in Royal Tunbridge Wells, sold a set of garden table and chairs to Beachy Head Holiday Cottages in the delightful setting of the Beachy Head Walled Garden.