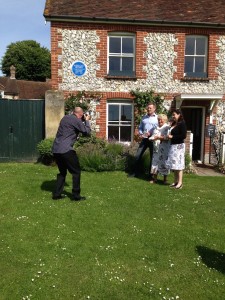 Beachy Head, East Dean, and the surrounding area are the setting for a new book about the adventures of fictional detective Sherlock Holmes.
Written by the New York Times bestselling author James Lovegrove, his second Sherlock Holmes novel 'Gods of War' is released on 27 June, after his highly acclaimed first instalment was released to rave reviews last year.
Set in 1913, with the threat of World War One hanging over England, the story begins with Dr Watson visiting his friend Holmes at his cottage in East Dean.  The discovery of a body nearby leads the duo to uncover a sinister conspiracy of shocking ramifications.
Author James Lovegrove says "I am East Sussex born and bred and I have lived here for most of my life.  It always had a special appeal for me that Conan Doyle had Sherlock Holmes retire to a patch of countryside and coastline that I know so well.  There have been other pastiche Holmes novels set during the great detective's twilight years — Michael Chabon's superb The Final Solution springs to mind — but none of the authors seem as familiar with the area as I am."
"In Gods Of War I have tried to make Edwardian Eastbourne and its surroundings as essential to the mood and atmosphere of the narrative as Victorian London is to the Holmes stories we all know so well, not least by including local folk and folklore in the novel."
Sherlock Holmes has a long association with East Dean, as being the retirement home of the fictional detective, also an avid beekeeper.  A blue plaque on the village green marks his literary association with the village there today.
Sarah Leighton from the Beachy Head Estate says "The village of East Dean is proud of its association with the great Sherlock Holmes and it's exciting to think of Beachy Head and the surrounding countryside providing a backdrop to another of the famous detective's adventures."
The book also features many venues around Eastbourne including the Pier, Meads, Terminus Road, Grand Hotel and the Railway Station.  As well as East Dean village and its historic 15th Century smugglers pub The Tiger Inn, the book races through stunning South Downs countryside including Beachy Head, Alfriston, the Cuckmere Valley and the mysterious chalk figure of the Long Man of Wilmington.
'Gods of War' is due to be released on 27 June by Titan Books priced at £7.99 and is currently available for pre-order on Amazon.co.uk