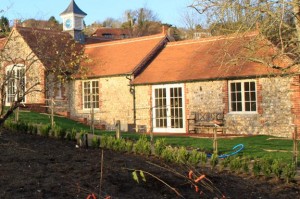 We're delighted to announce that our new holiday cottages are finished and ready for guests! We've worked hard to get every detail just right, and we're now taking bookings for our cosy cottages.
The finishing touches are in place, from the Egyptian cotton sheets to the trees in the walled garden. The first shallots and garlic are sprouting through the snow-sprinkled ground, while 420 seed potatoes are chitting in the shed and we're busy tying and training fruit trees.
A reported sighting of a rabbit in the garden has been the cause of some concern, but we'll let it be, for now.
Thyme, Folly and Fig Cottages are all within the walled garden, while Little Scarlett and Hop Cottage are just outside. Our cottages sleep between 2 and 6 people, and all make a great base for exploring the delights of Beachy Head, East Dean, Brighton, Eastbourne and the South Downs.