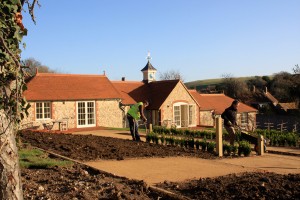 Our five new holiday cottages have received their first guests, and we're happy to announce that we've received glowing reviews! The first weekend was fully booked, and our first guests enjoyed the comfort and seclusion of our new cottages.
We managed to deal with a handful of teething issues, such as the timings of our central heating systems, but generally the cottages have got off to a great start, and our guests were delighted with their experience.
The walled garden continues to develop, and the recent rain has done the plants and vegetables the world of good, although the longer term drought conditions are making life rather difficult for head gardener Mark.
Take a look at our Beachy Head holiday cottages