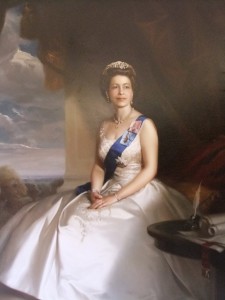 Join the Jubilee celebrations in East Dean for an action-packed weekend of fancy dress, wellie-throwing and Morris dancing.
The fun starts on Friday 1st June with a stool ball match on the recreation ground followed by an afternoon of traditional village games and family fun on Saturday 2 June including children's fancy dress, Morris dancing, dog show, wellie-boot throwing, tea and cake stands and more.
On Sunday 3 June a Big Jubilee Lunch is being held at The Greensward. Bring your own food and enjoy music from the Blues Brothers tribute band and fun with children's races and a mobile farm.
View the Diamond Jubilee Celebration events programme
School reunion at the East Dean and Friston Village Hall
Sunday 27 May 2012
This reunion is for former pupils of the old East Dean & Friston School. After a welcome glass of wine there will be a buffet meal.  A display of photos and historical information will be placed in the small hall to prompt reminiscences and memories of the old school.
Time: From 12 noon
Tickets: £15 each available from Christine Fuller (01323-423710)
Please note: This event is limited to 100 tickets
Family fun afternoon
Saturday 2 June
Location: Village Green
Time: 2pm till 5pm
Big Jubilee lunch
Sunday 3 June
Location: The Greensward
Time: From 12:30pm
Cost: Free Entry
Jubilee church service
Sunday 3 June
Location: Friston Church
Time: 6:30pm
Evening Service of Jubilee Thanksgiving & Prayer for the Nation
Jubilee church service
Sunday 3 June
Location: East Dean Church
Time: 9:30am
All Age Diamond Jubilee Celebration Service
Local clubs day
Monday 4 June
Location: See Jubilee Programme
Time: See Jubilee Programme
A special day for our local organisations to celebrate the Queen's Diamond Jubilee.
Jubilee entertainment
Tuesday 5 June
Location: Village Hall
Time: 2.30 Afternoon Matinee & 7.30 Evening Performance
Cost: £8 for the Matinee : £12 for Evening Performance.
The Players will perform two short comedies with a tea party in the afternoon and an evening buffet.