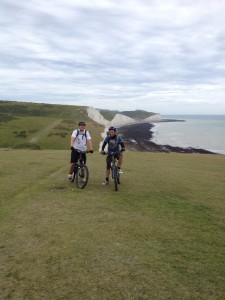 The unspoilt scenery of the South Downs National Park; the peaceful woodland of Friston Forest; the wetland landscape and wildlife of the Cuckmere Haven.  All this is within easy reach from Beachy Head Holiday Cottages and The Tiger Inn in East Dean.   Or why not venture inland through the delightful Sussex countryside travelling along the 14 miles of surfaced paths which make up the Cuckoo Trail which runs from Eastbourne Park to Heathfield.
Beachy Head Holiday Cottages and The Tiger are uniquely situated to make the most of some of the best mountain-bike trails in the UK, offering visitors a chance to try out some incredible rides across a wide variety of terrain.
Accommodation includes secure storage for bikes, but if you don't have your own bike with you the Seven Sisters Cycle Company is a five minute drive away with easy access to the Cuckmere Haven and Friston Forest.  The company also has bikes for sale and has a service and repair centre.  They offer instructor-led bike rides including all-day Adventure Rides for groups with a minimum of six people and biking Treasure Hunts.
For further information:
Seven Sisters Cycle Company:  www.cuckmere-cycle.co.uk
South Downs National Park Authority:  www.southdowns.gov.uk
Friston Forest (Forestry Commission) :  www.forestry.gov.uk
Cuckoo Trail:  www.eastsussex.gov.uk