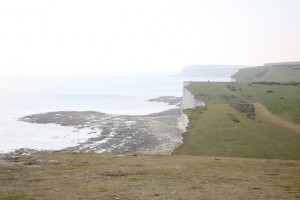 A Beachy Head adventure is one of several attractions which may feature in a nationwide poll of '101 Things to Do Before You Go Abroad', as part of a new Facebook app launched by VisitEngland this month.
The brand new app involves Facebook users suggesting their own favourite experiences in England, with fans voting on their top choices to decide who should appear in VisitEngland's ultimate bucket list of 101 things to do.
A Beachy Head adventure, which is already proving a popular choice for inclusion in the list, might include a clifftop walk along the Seven Sisters to enjoy the stunning scenery, or catching the surf and rockpooling – depending on the tide – down on the beach at Birling Gap. Then a pint of award-winning local ale "Legless Rambler" in front of the fire at the Tiger Inn in East Dean, situated just across the village green from the cottage believed to be the retirement home of Sherlock Holmes. The pub is also within staggering distance of some delightful holiday cottages to finish off the experience with a good night's sleep.
The new app is designed to inspire the nation into taking more holidays in England, and will feature the very best experiences only on offer in this country.  With 60% of the population feeling more British after the exciting events of 2012, research also shows that 20% of the population plan to take more breaks in England as a result of the feel good factor.
The app includes six categories of Food & Drink, Arts & Culture, Health & Fitness, History & Heritage, Wildlife & Nature, and finally Because It's Awesome!  Facebook fans can upload their own favourites to these categories, which once approved, will feature on a map of England.
Anyone nominating or voting will automatically be entered into a prize draw to win a weekend break away.
The app will be live until 10 March and a selection of winners announced during British Tourism Week from 16 – 24 March.  The full list of 101 things to do will be announced on St George's Day on 23 April.
View the app at www.facebook.com/EnjoyEngland or visit www.visiteastbourne.com and follow the links online.
For further information on Beachy Head visit www.beachyhead.org.uk