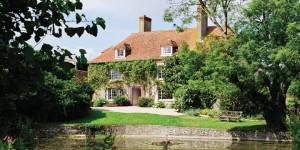 The area around Beachy Head is rich in places of interest for lovers of the Arts. A short drive from Beachy Head, just off the A27 en route to Lewes, is one of the most well-known of these – Charleston Farmhouse, renowned meeting place for the writers, painters and intellectuals known as the Bloomsbury Group.
Charleston is not only a fascinating place to visit, but offers a full programme of events including walks, talks, workshops and short courses. Events coming up soon include: Easter at Charleston 31 March – 1 April; Charleston Garden Weekend 27-28 April with Mark Divall Charleston's Gardener and Will Vincent, Head Gardener at Firle Place Herb Garden; Painted Furniture Masterclass 20 April; Scent Workshop 26 April; Landscape Drawing with iPads 3 May; Botanical Drawing for a Gardener's Journal 4 May; and Painted Lampshades 11 May.
The famous Charleston Festival runs 17 – 26 May 2013. In the course of the Festival there will be talks by an incredible range of authors and public figures including Audrey Niffenegger, Jenny Agutter, Julian Fellowes, Katie Derham, Juliet Stevenson, AN Wilson, Melvyn Bragg, Stephanie Flanders, Antonia Fraser and Jeremy Irons.
For further information on Charleston: www.charleston.org.uk
East Sussex was not only a meeting place for the Bloomsbury Group. The Surrealists and other major figures from the art world also came to this part of the world to Farley Farm House in Chiddingly, home of photographer Lee Miller and painter and biographer Roland Penrose.
Starting on Sunday 7 April Farley Farm House will open to the public every Sunday from April to October this year. Extended tours, led by Lee Miller and Roland Penrose's son Antony Penrose or by their granddaughter Ami Bouhassane are also available for booking.
For further information on Farley Farm House: www.farleyfarmhouse.co.uk
Beachy Head is also conveniently located for world-famous performing arts venue Glyndebourne. The Glyndebourne Festival stars 18 May with Richard Stauss' Ariadne auf Naxos running from 18 May – 11 July and Guiseppe Verdi's Falstaff running from 19 May to 14 July. Mozart's Le Nozze di Figaro runs 8 June – 2 August, with further operas being performed later on in the Summer. There is also a programme of concerts and talks.
For further information on Glyndebourne: www.glyndebourne.com