…return to Eastbourne Beer Festival, 10 – 12 October 2013
"The Famous Christmas Ale" from the Beachy Head Brewery, which won Best Beer from a Micro Brewery in 2012, is returning to the Eastbourne Beer Festival this year.  The Brewery's "Legless Rambler", "Southdown Ale" and "Original Ale" will also be amongst the 120 real ales on the menu at the Festival.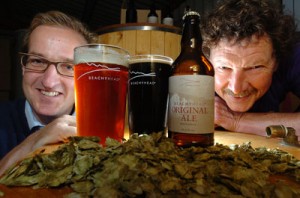 Established in 2006, the Brewery has already won several awards and has a fantastic record at the Eastbourne Beer Festival.  In 2010 "Legless Rambler" beat 120 beers from around the UK to win Beer of the Festival, and in 2008 and 2011 "Legless Rambler" was voted Microbrewery Beer of the Year.
Visitors to the Festival, which is at the Winter Garden from Thursday 10 – Saturday 12 October 2013, can look forward to a packed programme of live entertainment, with everything from R&B to acoustic sets and much more.  Pub grub will be available throughout the event and there will be a chance to try your hand at traditional pub games such as Bar Skittles and Toad in the Hole.
Tickets start at £5 in advance with a special discount for CAMRA members.  To book tickets online visit www.eastbournebeerfestival.co.uk or telephone the Box Office on 01323 412000.
To arrange a tour of Beachy Head Brewery telephone 01323 423313 or e-mail brewery@beachyhead.org.uk